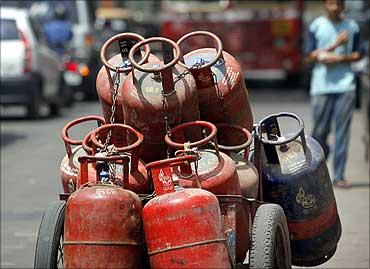 Lawmakers are seeking the inclusion of Liquefied Petroleum Gas (LPG) and kerosene in the list of basic prime commodities, which are under strict monitoring by the government.
The solons led by Reps. Emerenciana De Jesus and Luzviminda Ilagan (Party-list, GABRIELA), authors of House Bill 4100, said LPG and kerosene are considered basic necessities in every household.
De Jesus said LPG and kerosene are regarded as socially sensitive products or products whose prices are susceptible to change due to certain economic movements or activities.
The bill seeks to amend Section 3, Definition of Terms of Republic Act 7581 otherwise known as the "Price Act," which provides protection to consumers by prescribing measures against undue price increases during emergency and similar occasions to stabilize the prices of basic necessities and prime commodities.
According to De Jesus, Republic Act 8180, which deregulates the downstream oil industry, removed the government's control over price setting of all petroleum products that include LPG and kerosene. Because of this, the toiling masses carry the brunt of its impact.
De Jesus said on October 9, 2010, Petron increased the price of both LPG by P0.50 per kilogram or P5.50 per 11-kilogram cylinder and kerosene by P1.25. As of January 2011, the average selling price of LPG is from P650.00 to P690.00 per 11-kilogram cylinder.
Ilagan said the recent round of petroleum products' price hike would automatically affect the daily budget of each household for basic necessities, especially for food.
At present, Ilagan said the daily cost of living for a family of six (average size in the National Captial Region NCR) is P917 while the minimum wage in Metro Manila is currently pegged at P404 a day.
"It is a reality that Filipino families try to survive on deficit income and with these economic scenarios, another increase in the price of commodities is too much for the battered poor Filipino people," Ilagan said.
The co-authors of the bill are Reps. Teodoro Casiño and Neri Colmenares (Party-list, BAYAN MUNA), Rep. Rafael Mariano (Party-list, ANAKPAWIS), Rep. Raymond Palatino (Party-list, KABATAAN) and Rep. Antonio Tinio (Party-list, ACT TEACHERS).